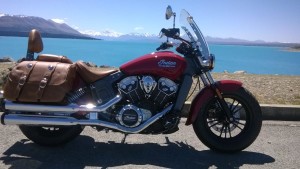 Central Otago Motorcycle Hire have just purchased a new Indian Scout. This comes with saddlebags and pillion equipment so you can tour two-up around the fantastic Central Otago region or further.
Fly to Queenstown, get picked up by us at the airport, then take the Indian Scout to Invercargill, the home of the world's fastest Indian. Ask us where to find all the Burt Munro related sites.
The  Burt Munro Challenge is held in November each year in Invercargill, so book early if you want to take our scout to that.